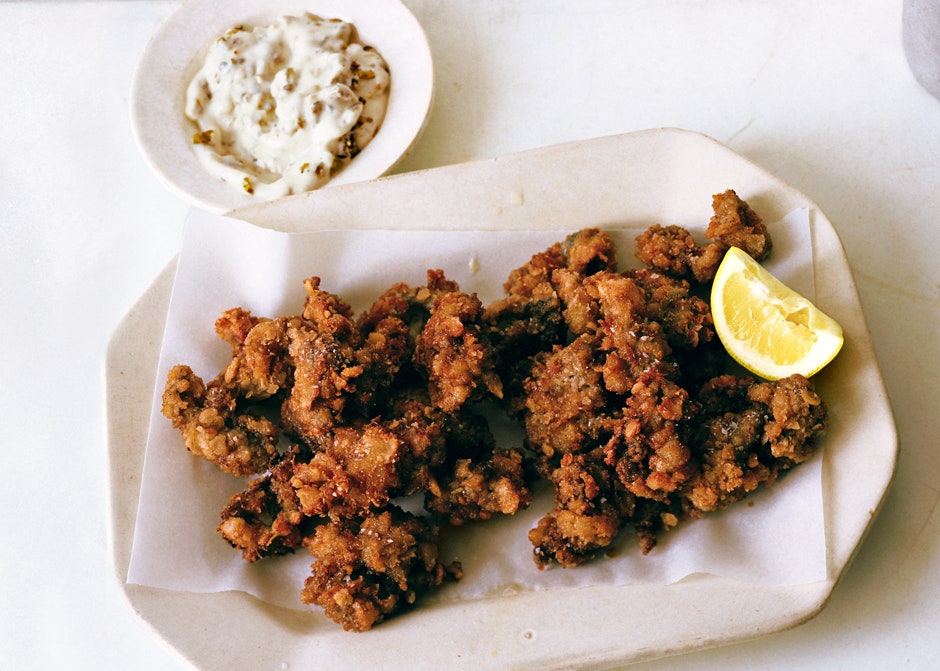 6 TO 8 SERVINGS
Ingredients
24 shucked medium to large oysters
3 large eggs
2 sleeves saltine crackers (8 ounces), pulsed to coarse meal (no bigger than 1/8 inches) in a food processor
Corn or vegetable oil (for frying)
Kosher salt
SPECIAL EQUIPMENT
A deep-fry thermometer
Preparation
Step 1
Drain oysters. Beat eggs in a medium bowl to blend. Add oysters and turn to coat completely. Pour half of saltine crumbs into a 13x9x2-inch baking dish. Working in batches, lift oysters with a slotted spoon, allowing excess egg to drain back into bowl, and transfer to baking dish. Scatter remaining crumbs over oysters and toss to coat. Cover dish and chill for 2-3 hours.
Step 2
Line a plate with paper towels. Pour oil into a medium heavy skillet to a depth of 1/2 inch. Prop deep-fry thermometer in skillet so bulb is submerged. Heat oil over medium heat to 375°. Working in batches, fry oysters, turning once, until coating is crisp and deep golden brown, about 1 minute per batch. Transfer to paper towels; season with salt.
We want to know what you think...
Please write a comment if you tried one of our recipes and let us know what you think. Don't forget to share with your friend s!